In the world of beauty and cosmetics, personalisation has become more than just a trend. It is a way to express your unique style and personality. One such accessory that has gained popularity in recent years is the personalised makeup bag. These customised beauties are not just about carrying your makeup essentials; they are about making a statement. They reflect who you are – your style, preferences, and personality. 
How Personalised Makeup Bags Can Elevate Your Daily Routine
Adding That Extra Special Touch: A personalised make up bag adds a special touch to your daily routine. It's not just another item in your handbag; it's a piece of you. Every time you use it, you're reminded of your uniqueness, giving you that extra boost of confidence to face the day.
The Convenience Factor: Makeup bags are also about convenience. A bag that caters to your specific needs and preferences makes your daily makeup routine smoother and more enjoyable. Whether it's a dedicated pocket for your favourite lipstick or a special compartment for your brushes, these little details make a big difference.
Range of Personalised Accents: Let's not forget the range of personalised accents that could be added to a makeup bag. From your initials or name to a meaningful design, there are endless ways to make your makeup bag truly yours.
Finding the Perfect Personalised Beauty Case
Choosing a makeup bag? Consider these key features.
It should be durable, and made from sturdy materials like recycled or vegan leather to handle daily use.
A waterproof lining is invaluable for accidental spills, while ample storage to keep your cosmetics.
Secure closures prevent items from falling out and are easy to clean up.
These features ensure your makeup bag is practical, reliable, and ready for use. From compact to spacious, minimalist to flamboyant, there's something for everyone. The choices don't stop at size and design. You can choose from different materials like nappa leather and saffiano leather. And let's not forget the rainbow of colours you can choose from. Moreover, it is great that a personalised makeup pouch is highly customisable with your initials and other designs you wish to imprint on them.
Best Personalised Makeup Travel Bags
Clear Cosmetic Cases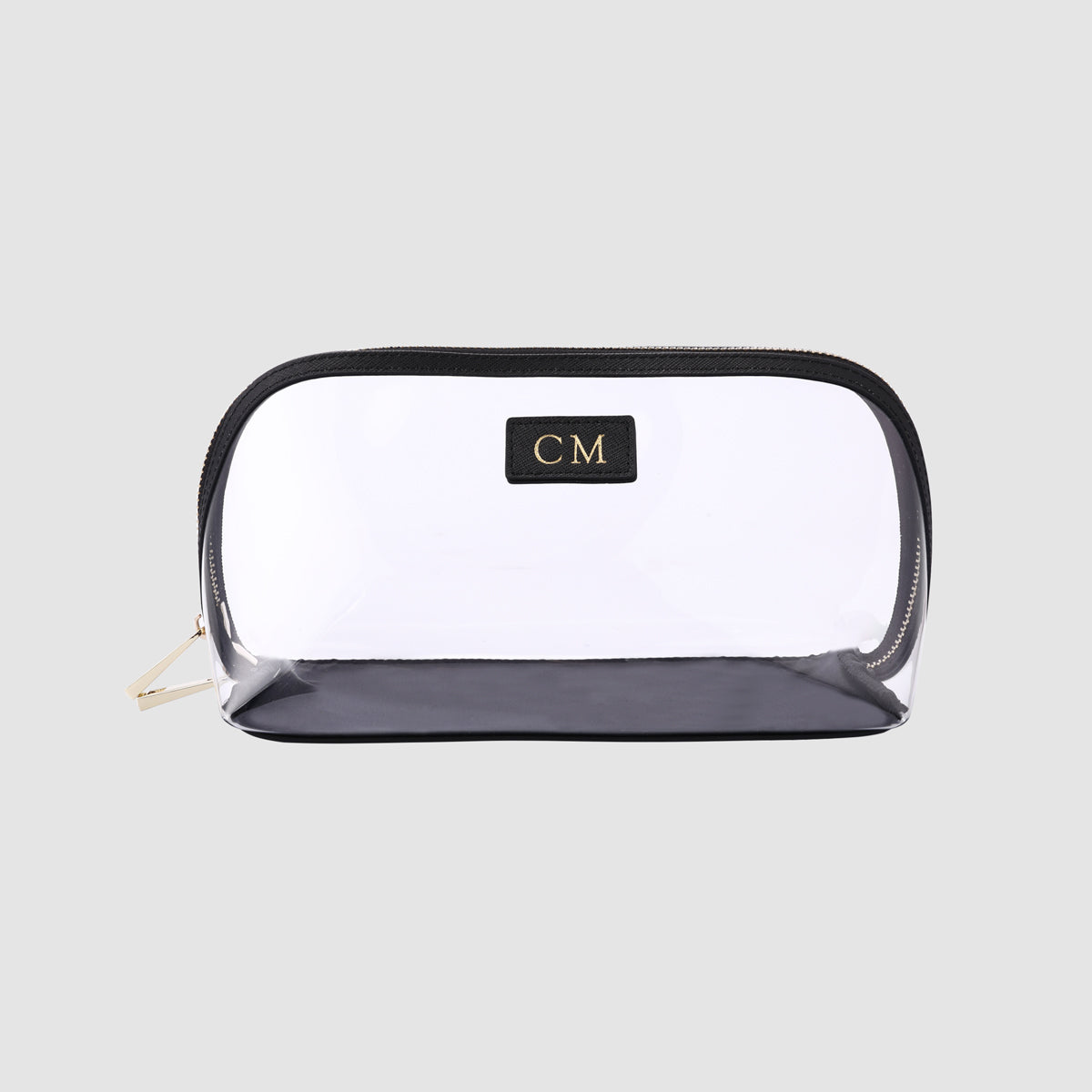 Clear cosmetic cases are a game-changer for makeup organisation. Made from sturdy clear PVC with stylish saffiano leather accents, these cases let you see all your products at a glance. No more digging for your favourite lipstick or searching for that elusive eyeliner! A zip-around closure keeps everything safe and secure, whether you're on the move or just tidying your vanity. The gold hardware adds a sleek touch of elegance. On top of that, there's plenty of room for all your beauty essentials. For easy, stylish organisation, clear cosmetic cases are a must-have.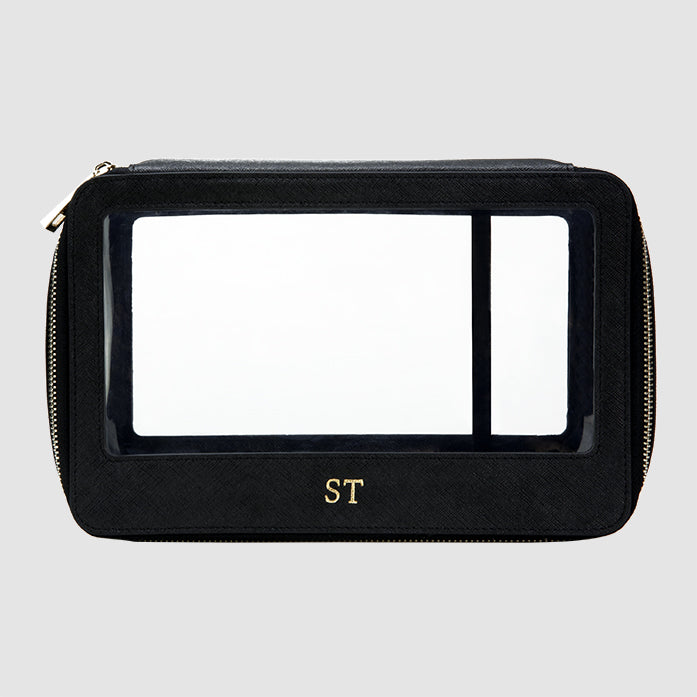 This personalised cosmetic case, made of clear PVC with saffiano leather trimming, is the ideal fusion of fashion and utility. Your preferred makeup products will be simple to find without having to do any tiresome searching, thanks to the clear material. The overall design is given a touch of class by the saffiano leather edge, which enhances its aesthetic appeal. Opening the case shows a lovely suede interior. A dazzling finishing touch, the gold hardware accents exude a sense of refinement and elegance.

With two distinct compartments, this case provides lots of room to arrange your essential makeup items. An elastic band is included in the first compartment to hold smaller objects in place, so they stay nicely organised and are simple to access. This case provides space for your favourite fragrances, toothbrushes, hairbrushes, and makeup brushes.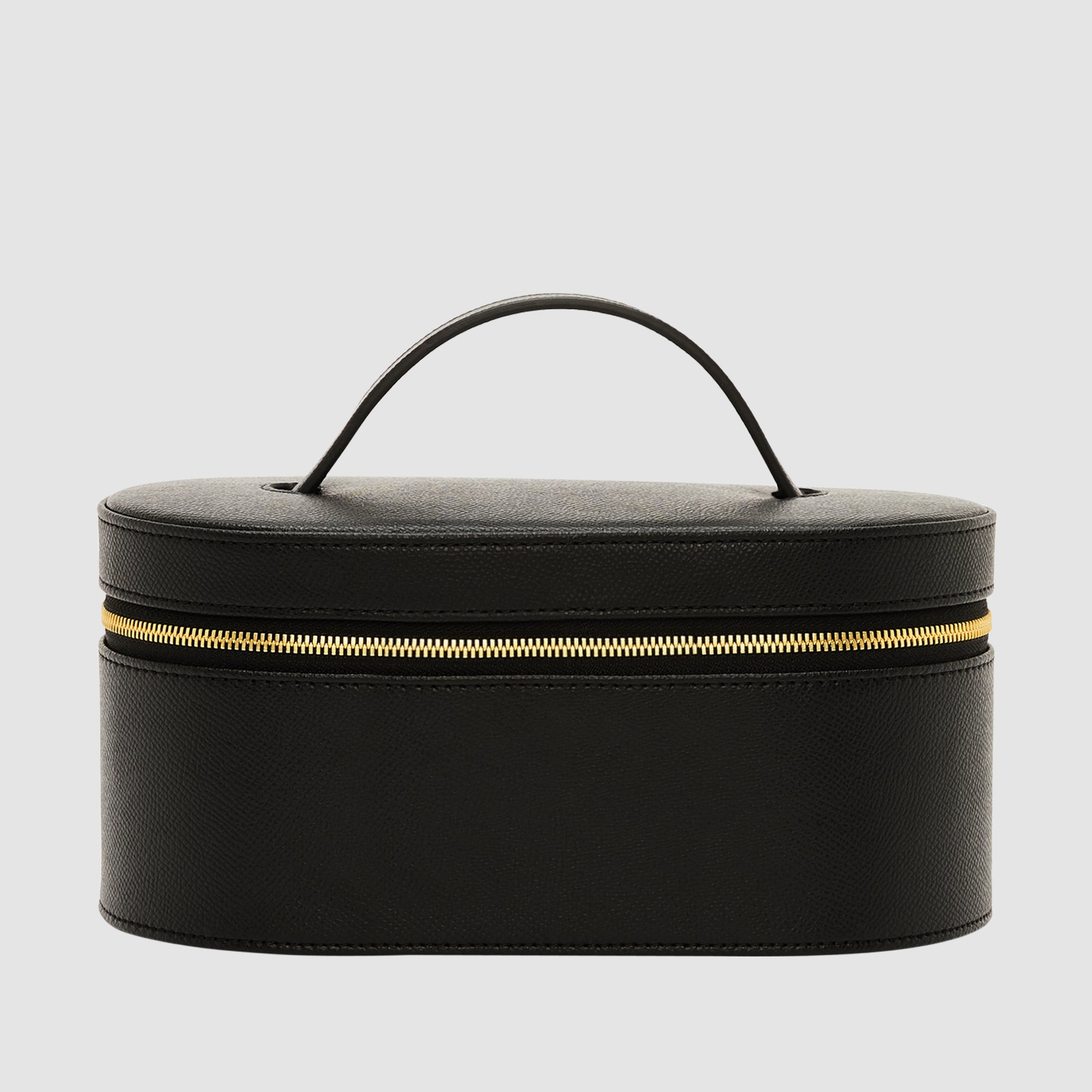 A vanity case is a perfect example of both class and practicality. It differs from typical makeup bags by providing special features that increase their usefulness and practicality.
Your basics for beauty are accessible quickly and securely thanks to the top handle and zip closing. No more being concerned about things slipping out or disappearing during transit. You can keep your makeup, jewellery, sunglasses, and skincare products neatly arranged and within reach, thanks to the elasticised side pockets and a zip pocket on the interior of the lid.
Two detachable nylon bags are a unique feature of this vanity case. With these pouches' increased adaptability, you can further divide and organise your goods. You won't have to spend any more time digging through disorganised purses in quest of that one elusive thing with this level of organisation.
Leather Cosmetic Cases
The leather cosmetic cases are compact yet surprisingly spacious, offering ample room for storing all your essential makeup items. Everything can be conveniently organised in one place, from lipsticks to brushes and eyeshadow palettes. Slip it into your bag, and you'll easily access all your beauty essentials throughout the day.

What sets our cosmetic cases apart is the option for personalisation. You can add your name or initials beautifully embossed, making it uniquely yours. Not only does this enhance the aesthetics, but it also makes it easier to identify your case. It reflects your individuality and adds an exclusive touch to your beauty routine.

For many women, a makeup bag is like a portable sanctuary where they keep the tools and products they use to enhance their features, express their style, and showcase their unique beauty. It's a way of self-care, offering moments of self-expression and self-love in the midst of busy lives. At The Daily Edited, our selection is designed with this in mind, and we provide personalisation options with initials to turn these pouches into cherished keepsakes.