A true gentleman knows that small detail counts, including his wallet choice. Rather than opting for a generic one, why not invest in a unique wallet that reflects your individuality? Personalisation is the ultimate way to elevate your accessory game. And, it doesn't get much better than a distinctive engraving or embossing. Personal style plays a significant role in men's accessories, as it expresses individuality.
Accessories, such as wallets, are functional items and fashion statements that contribute to one's overall style. Imagine the conversations that could arise as people notice and ask about your one-of-a-kind wallet. Not only will it make a statement, but it will also showcase your passions and interests. Step up your style game with a custom wallet that's as sophisticated as you are.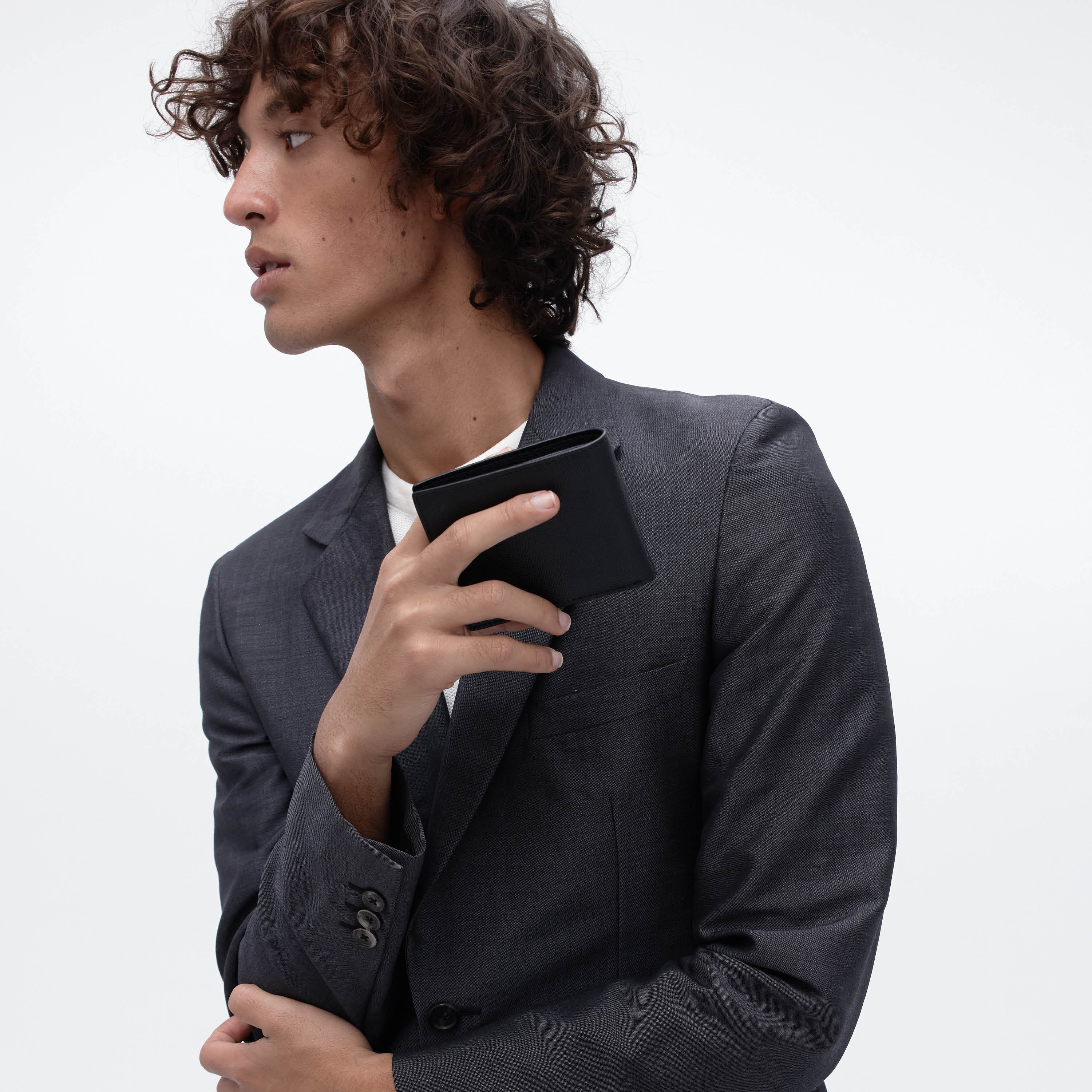 Rising trends in Personalised Men's Wallets
1) Minimalism is the way
In today's fast-paced world, the minimalist lifestyle trend is catching on with more and more people. The demand for classy, compact wallets is rising. To cater to this demand, designers are coming up with sleek and slim designs that are practical and exude sophistication. Whether you need a personalised cardholder or a simple yet elegant personalised wallet, there's no shortage of options with minimalist designs. Imagine carrying a wallet with all the necessary cards and cash without bulging out, adding undue weight, or cramping your style. With minimalist designs, you can enjoy sophistication and practicality in equal measure.
2) Eco-conscious choices
As sustainability becomes more of a priority, environmentally-conscious consumers are turning towards wallets made from sustainable materials. These options include vegan or recycled materials, reflecting a growing desire to make eco-friendly choices. Custom wallets made from these eco-friendly materials are gaining popularity.
3) Personalisation is the key
Nowadays, a personalised gift is the perfect way to show someone just how much you care for them. Brands offering personalisation options like monogramming or engraving have made it easy for customers to add a unique touch to their accessories. Whether it's a name, initials, or a heartfelt message, it's a great way for customers to turn a regular object into important mementos.
Personalised Wallets for Unique Style Statements
Bi-fold wallets have gained immense popularity due to their practicality and versatility. Many unique features set them apart from other card and coin organisers. Crafted from saffiano leather, these wallets provide luxury and durability.

They provide ample storage for your essentials and include 4 interior card slots, 2 side pockets, and 2 back pockets for notes. The dedicated coin pocket, secured with a convenient press-stud closure, makes them stand out. The fabric lining adds a sleek finish to the interior.

Bi-fold wallets are for different kinds of people. They have a nice design, and the material is strong. Professionals like them because they look good. Fashion-conscious people like them because they are trendy. People who like to stay organised appreciate how tidy the wallets are. They also make great gifts; travellers love them because they are small and easy to carry around.
The classic cardholder design is refreshed with a modern touch in our new Double Cardholder. It offers enough storage for all of your necessary cards, including IDs and credit cards, with enough for up to four cards. Not only that, but we've also added a handy slot in the middle to store your notes securely. Thanks to this clever addition, you can neatly manage your cards and cash in one small accessory.

Bypass clunky wallets and embrace a sleek, effective alternative that keeps your cards and money well-arranged with our range of personalised slim men's wallet.
This wallet, which was expertly designed, has five card slots, giving you plenty of room to store your necessary cards. The internal zip compartment gives this traditional item a little more versatility by providing a safe storage alternative for money, keys, or small notes.
Our Nappa Leather Petite Wallet is the perfect travel or work companion. It has a slim and long shape, which fits easily into pockets and bags. Both look, and function are guaranteed by its thin form, which removes bulk while offering a variety of storage alternatives.
Your initials engraved on custom wallets made of lavish leather give them an air of sophistication. This stylish accessory showcases a refined taste and instantly enhances your overall look. Making a good first impression is crucial while networking and establishing connections. A custom leather wallet with your initials embossed sets you apart from others, leaving a positive impact on colleagues and potential business partners. It exhibits a high level of confidence and style, reflecting your commitment to professionalism. Opting for a personalised leather wallet is a testament to your dedication.