Travelling has always been an exciting experience, often filled with thrilling escapades and unforgettable memories. For so many of us, the thought of being able to pack for a journey in anticipation of the wonders that await us is both exhilarating and liberating. However, all those feelings would soon come crashing down if we were to lose our belongings amid our adventures. That's why having the right travel accessories is essential for modern travellers – especially when it comes to personalised luggage tags! These small yet vital items are specifically designed to keep your bags safe and secure as you explore new places without fear or worry - all while making a bold fashion statement!
Luggage tags may seem like a small detail in the grand scheme of travel, but they actually serve two crucial functions.
Firstly, they are instrumental in ensuring that your bags remain secure throughout your journey. By attaching them to your luggage, you reduce the likelihood of losing your belongings or having someone else mistakenly take them.

Secondly, bag tags make it easy to identify your bags on the conveyor belt or in a crowded airport terminal.
With a tag personalised with your initials or a distinctive design, you can quickly spot your luggage and avoid any mix-ups or confusion. Make a statement wherever you go by adorning your suitcase with a tag that radiates personality and flair. Elevate your everyday handbag, tote, or backpack with a captivating tag that perfectly complements your unique style. Transform your luggage tag into a chic keychain, effortlessly blending practicality with a touch of sophistication.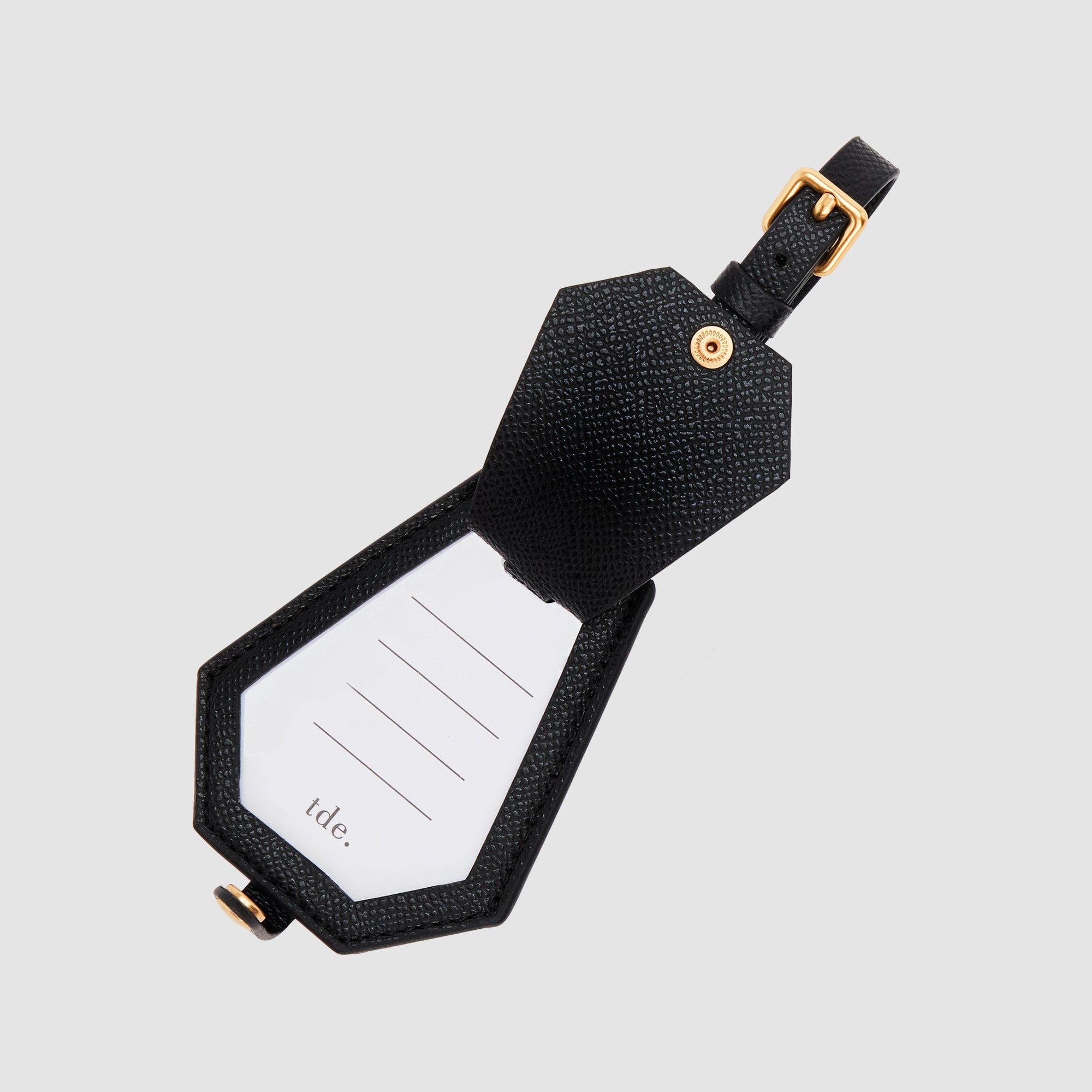 Exploring the psychology of personalisation provides a fascinating insight into why custom items have become such a dominant trend. At the core of this phenomenon is our inherent desire for uniqueness and self-expression. The act of personalising empowers us to turn ordinary objects into reflections of our individual identities, effortlessly aligning with our values and preferences. By adding personal touches, we establish a deep sense of ownership and connection, enhancing our self-esteem and overall fulfilment. Additionally, such items possess an incredible ability to evoke emotions and create lasting memories.
For the same reason, personalised gifts are considered to be cherished mementos, with customised luggage tags being no exception.
Gifts for family and friends
Personalised luggage labels with initials are a delightful gift choice for family and friends. These unique labels add sophistication and make luggage easily identifiable. Customise the labels with their initials for a thoughtful and personal touch. Whether on a dream vacation or a business trip, these personalised tags serve as a reminder of your love and attention to detail. Upgrade their travel experience with stylish and practical gifts that combine functionality and personalisation.
Gifts for clients and colleagues
Smartly designed personalised tags are also a great way to show appreciation for clients and colleagues. Provide customised luggage labels with their initials or company logo as a thoughtful thank-you gesture. Whether they're travelling overseas or domestically, your clients will be sure to feel valued and appreciated when presented with these stylish travel accessories.
There is a growing trend of the younger generation being drawn to luxury and branded items. Our luggage tags, made from saffiano and napa leather, are ideal gifts for modern, youthful travellers. They have a minimalist design combined with a sophisticated appeal.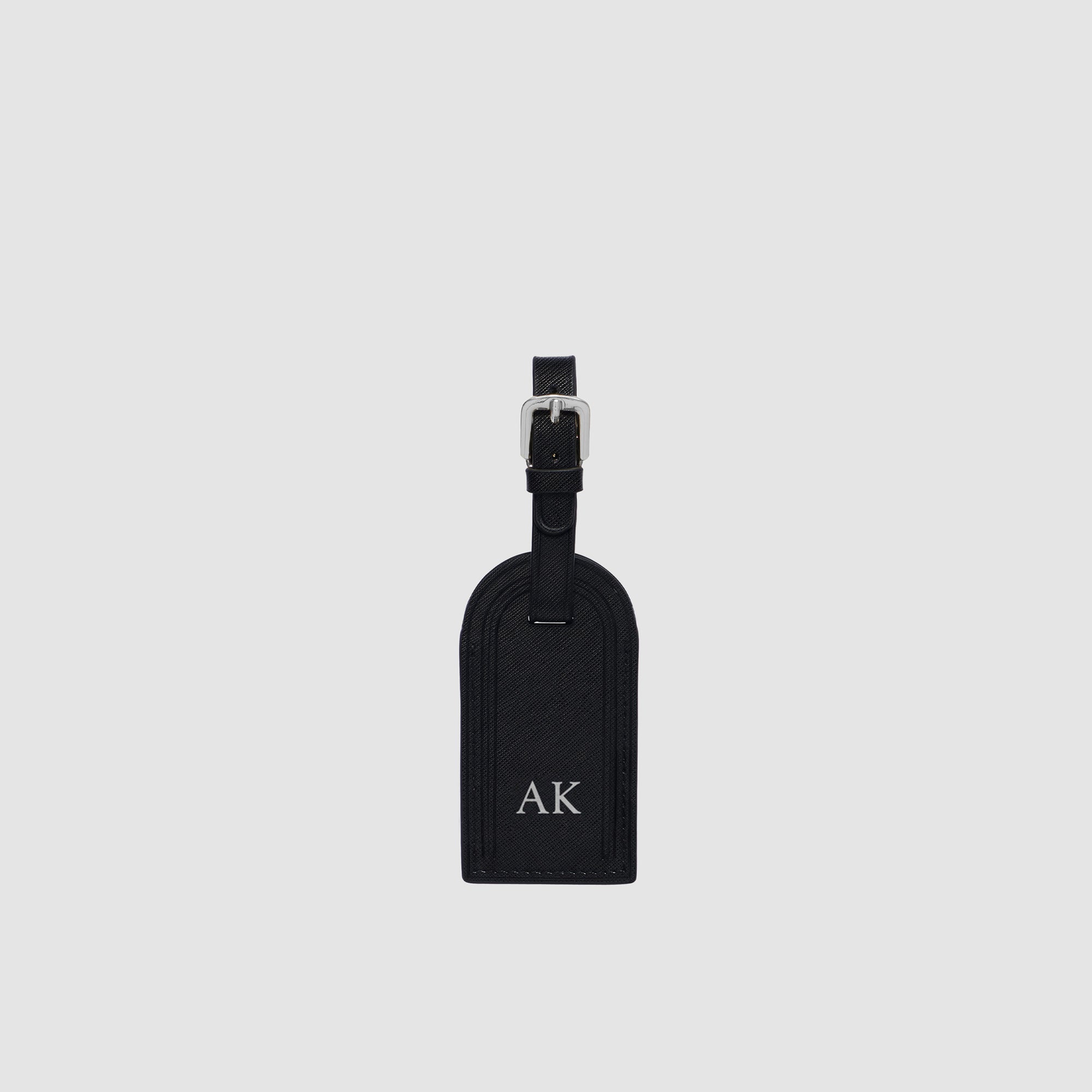 Personalised suitcase tags as luxurious corporate gifts
When it comes to building brand awareness, using premium gift items such as leather name tags for luggage can set you apart from the competition. These luxury products not only add finesse to your brand but they also leave a lasting impression on potential clients. Leather name tags for luggage offer a sleek and professional look, making your brand stand out in a sea of generic corporate gifts.
At The Daily Edited collection, you'll discover our exquisite range of luxurious bag tags. Some of the examples include pebbled leather tags, round tags, and suitcase tags in colours like black, red, beige and more. Feast your eyes on an array of captivating shades and charming shapes. Our bag tags are meticulously crafted from saffiano leather, boasting gold hardware that exudes elegance. Elevate your suitcase, bag, tote, or backpack with this instantly recognisable and stylish luggage tag. Embrace the personal touch with a convenient slot to insert your own written details. It's the perfect accessory to complement any item. Discover the allure of our bag tags, designed to captivate and enhance your travel experience.